Nagios Live Webinars
Let our experts show you how Nagios can help your organization.
Nagios Exchange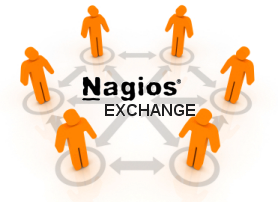 Nagios® Exchange is the central place where you'll find all types of Nagios projects - plugins, addons, documentation, extensions, and more. This site is designed for the Nagios Community to share its Nagios creations.
Have a new project for Nagios that you'd like to share? Just create an account and add it to the directory. (Read the FAQ)
Popular Projects
Jump to the most requested...
Nagios XI Addons:

Nagios Log Server Addons:
General Addons:
Project Stats
There are 6075 listings in 459 categories on Nagios Exchange!
Nagios Exchange - The official site for Nagios projects of all kinds - Nagios plugins, addons, documentation, extension, and more