Nagios Live Webinars
Let our experts show you how Nagios can help your organization.
Category: Configuration Wizards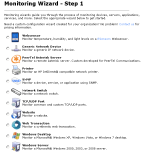 Nagios XI configuration wizards make it easy to extend Nagios for your organization.  Configuration wizards provide users with easy, step-by-step instructions for monitoring new hosts and services with Nagios.
For more information on Nagios XI, visit www.nagios.com/products/nagiosxi

Don't miss your chance to attend the 2016 Nagios World Conference, Sep 12-15th. Informative Sessions, Networking, Food and Cocktails! Visit conference.nagios.com for more information or to register.
Submit Your Nagios Project!
Help build Nagios Exchange for yourself and the entire the Nagios Community by your Nagios project to the site. It's easy - just create an account, login, and add a new listing.
Read the FAQ for instructions
.
Category Listings:
Page 1 of 2