Nagios Live Webinars
Let our experts show you how Nagios can help your organization.
Category: Configuration Wizards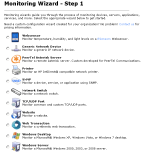 Nagios XI configuration wizards make it easy to extend Nagios for your organization.  Configuration wizards provide users with easy, step-by-step instructions for monitoring new hosts and services with Nagios.
For more information on Nagios XI, visit www.nagios.com/products/nagiosxi
Submit Your Nagios Project!
Help build Nagios Exchange for yourself and the entire the Nagios Community by your Nagios project to the site. It's easy - just create an account, login, and add a new listing.
Read the FAQ for instructions
.
Category Listings:
Page 2 of 2