Nagios Live Webinars
Let our experts show you how Nagios can help your organization.
Nagios Log Server - Monitor and Manage Your Log Data
Nagios Log Server is a powerful enterprise-class log monitoring and management application that allows you to quickly and easily collect, analyze, monitor, and configure logs from any source on any given network. Nagios Log Server offers complete monitoring and management of:
Windows Event Logs
Linux/Unix Syslog Data
Application Logs
Apache and IIS Web Server Logs
Custom Log Files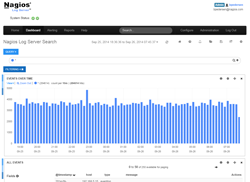 This is a Windows service that forwards filtered EventLog messages into Nagios, via the NSCA daemon. It is based on NTSyslog and send_nsca with some additional filtering code by myself, and includes the GPL libmcrypt library. It is therefore distributed under the Gnu GPL. Version 1.6.2 is believed to work with Win 2k3 but is not fully tested. v1.7.0.b now includes the missing mcvcr70.dll that is missing on some systems - it is the inclusion of these Microsoft DLLs that causes the huge size of the install package! v1.8.0 now contains a heartbeat function and upgrade option.