Nagios Live Webinars
Let our experts show you how Nagios can help your organization.


Check video demo at: https://youtu.be/P1JnfINtCwU
The
Nagios plug-in for iLO agentless management
aims to manage HP ProLiant servers within the data center by an automated manner. With the help of the plug-in, the administrator does not need to configure the nagios configuration file manually for all servers. If the data center has thousands of HP ProLiant servers (even more), the plug-in greatly saves the effort of configuring the servers' information manually. The plug-in provides the high-level health status for being managed servers. The administrator can easily identify the failed server within the data center.
Features:
1) Discover and monitor HP ProLiant servers within data center automatically. There are two discovery approaches: active discovery and passive discovery.
2) Provide the high-level server status.
3) Display the server status in real-time if the status is changed.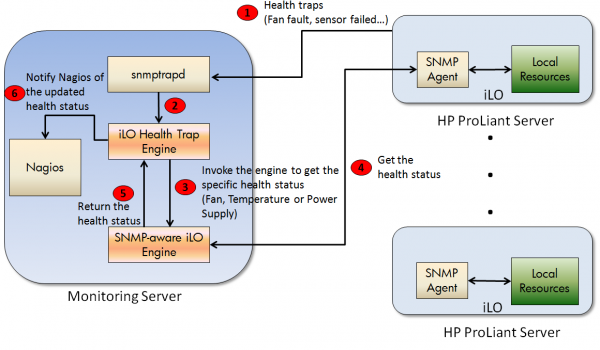 4) Categorize the preferred servers into the same host group.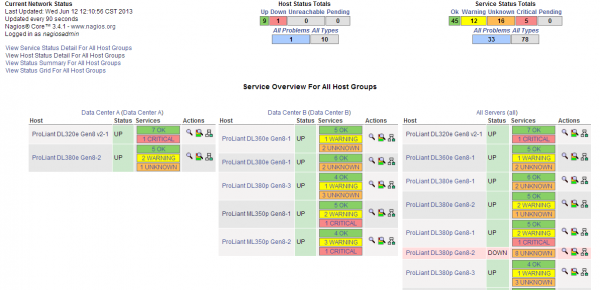 ---------------------------------------------------------
What's new in 1.4 release:
- Enable / Disable Active / Passive Discovery
- Supports Configurable Community string
- Discovery on a range of network IP / Subnet
- Creation of host group based on subnet of community string
- Host Group Service Support
- Single external iLO page link for each Host
- Template based Nagios iLO configuration file.
Reviews (1)
for now i have made a install of these tool on one server. Easy manual, easy tool.

only thing i like to see also the server OS name.

when your server have 4 nic's and you only use one! disble the other 3 nic's !