Nagios Live Webinars
Let our experts show you how Nagios can help your organization.
Nagios Log Server - Monitor and Manage Your Log Data
Nagios Log Server is a powerful enterprise-class log monitoring and management application that allows you to quickly and easily collect, analyze, monitor, and configure logs from any source on any given network. Nagios Log Server offers complete monitoring and management of:
Windows Event Logs
Linux/Unix Syslog Data
Application Logs
Apache and IIS Web Server Logs
Custom Log Files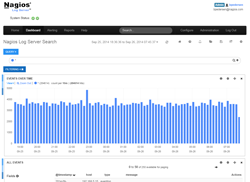 Don't miss your chance to attend the 2016 Nagios World Conference, Sep 12-15th. Informative Sessions, Networking, Food and Cocktails! Visit conference.nagios.com for more information or to register.
Check for a pattern in a log file in the last "X" minutes
Check for a pattern in a log file in the last minutes.
You need to set your timezone in the script